Saving for College in a
Turbulent Market
published April 19, 2023
Let's face it, there's a lot of uncertainty and instability in the world right now – look no further than the ups and downs of the stock market. This volatility may keep some investors on the sidelines, while others may try to time the market, which can be risky.
If you've been thinking about saving for your child's college education, you may be surprised to learn that now could be the ideal time to start investing with Edvest 529, Wisconsin's direct-sold College Savings Plan. Anyone can open an account with as little as $25 and can set up recurring contributions. Regular, ongoing contributions can potentially make a difference for those who continue to invest, even during challenging times.
This investment strategy, often called Dollar-Cost Averaging, is when people continue to invest their money in equal portions, at regular intervals, regardless of the ups and downs in the market. It may help to minimize the impact of market volatility, while potentially enhancing returns over the long haul.
Don't let the market's unpredictability keep or delay you from investing in your child's future. Opening an Edvest 529 account with a recurring contribution – even in small amounts – can potentially add up to big savings down the road.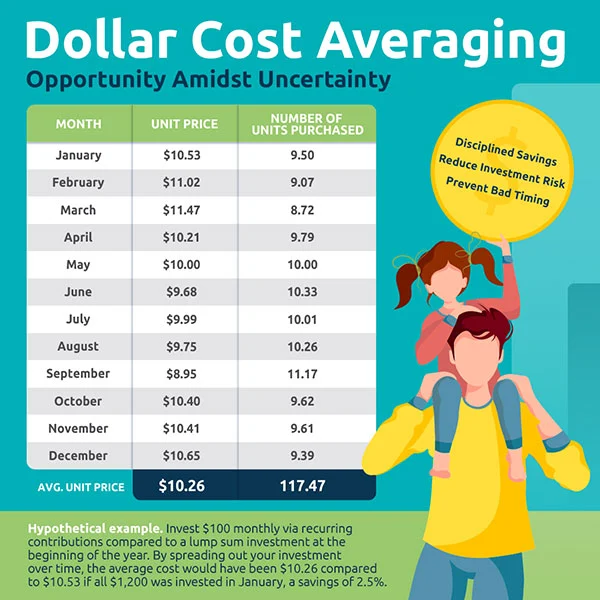 View Data Table Details
The calculations are for illustrative purposes only, such automatic investment plans do not assure a profit or protect against losses in declining markets.
To learn more about Wisconsin's Edvest 529 College Savings Plan, its investment objectives, risks, charges and expenses please see the Plan Description at Edvest.com. Read it carefully. Investments in the plan are neither insured nor guaranteed and there is the risk of investment loss. Check with your home state to learn if it offers tax or other benefits such as financial aid, scholarship funds, or protection from creditors for investing in its own 529 plan. Consult your legal or tax professional for tax advice. TIAA-CREF Individual & Institutional Services, LLC, Member FINRA, is the distributor and underwriter for the Edvest 529 College Savings Plan.
FGN-2846257PR-Y0524W
Explore our plan

Learn more about eligibility and all the qualifying expenses an Edvest 529 account can cover.

How our 529 works

Compare investment portfolios 

We make it easy to choose investment portfolios that fit your financial needs and savings goals.

Discover your options
Want more time before getting started? Sign up to receive
Edvest 529

information and college savings tips.