June Dairy Month
Edvest 529 Celebrates the Many Education Pathways into Wisconsin's Dairy Industry
published May 24, 2023
June 2023—In Wisconsin, June means more than the beginning of summer, it is a chance to shine a spotlight on the role of the dairy industry in the culture and economy of our state and celebrate National Dairy Month. Known as "America's Dairyland" since the 1930s, today, Wisconsin is the largest producer of cheese in the United States1 and exported over $600 million worth of dairy products last year alone.2
To highlight the connections between post-secondary education and the many careers in Wisconsin's dairy industry, Wisconsin's 529 College Savings Program spoke with industry and education representatives from Meister Cheese Company, the UW-Platteville School of Agriculture, and Chippewa Valley Technical College. These conversations revealed that students in the state have no shortage of education pathways available to prepare them for a career in Wisconsin's evolving and vital dairy industry.
A Variety of Career Opportunities
Think of a Wisconsin dairy worker, and you may think of milking cows, driving tractors, or feeding calves. These are all essential parts of dairy production, but in addition, there are professionals of every type working in the Wisconsin dairy industry today. Students pursuing degrees in agricultural majors, including animal science, agronomy, and agricultural business may pursue jobs on the farm, or may work for businesses that support farming, such as animal nutrition and agricultural input sales. Other students may take an interest in computer science, engineering, or business, and bring those skills to a dairy manufacturing facility.
Meister Cheese, a family-owned artisan cheesemaking company located in Southwestern Wisconsin, knows first-hand the importance of a well-educated workforce to helping a company grow. Owner, Scott Meister, is the third generation of his family to run the Meister Cheese and says, "it takes a lot of effort from the entire team." The company recently increased their workforce from 60 employees to nearly 200 and is one of the top 100 dairy plants for cheese production in the United States.
In discussing the wide variety of jobs that make it possible for their dairy processing plant to run, Meister's Human Resources Director, Michelle Winkers, explained that the company employs laboratory scientists, stainless steel welders, and people with degrees in leadership and supply chain management. Winkers noted "we've worked with Southwestern Wisconsin Technical College on developing coursework to help meet the needs of the dairy industry."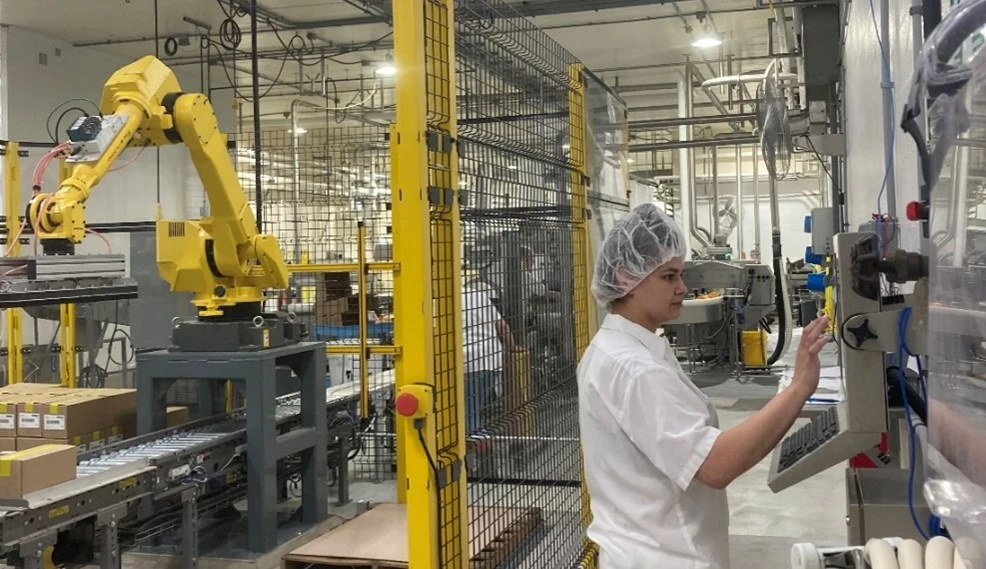 Work at a dairy processing plant today includes technical and computer skills that are taught in

post-secondary

education programs.
Taking it a step further, Meister Cheese also partners with a local high school to provide students with apprenticeship and technical college credit that they can earn while working for the company and completing their high school degrees. According to Operations Team Director, Joseph Stadler, an area where they anticipate continued growth is in human-machine interface, robotics, and information technology. As cheesemaking has become less manual labor, and gained efficiency through technology, he explained that the company's future is "reliant on people who have been educated in these areas."
Post-Secondary Education Options for Every Type of Student
While the total number of farms in Wisconsin is decreasing, the number of cows has been steady, indicating that remaining farms are growing in size. Most Wisconsin farms continue to be family-owned and are looking for employees that have specialized skills to manage the diverse tasks of these larger operations. In response, Wisconsin's post-secondary education institutions are adapting and providing vital resources to educate the next generation of dairy leaders.
Chippewa Valley Technical College's Animal Science Management Director, Adam Zwiefelhofer, explained that students in their program can earn a one-year imbedded technical diploma, or a two-year associate degree that positions them to be herd managers on farms, or fill other needed positions. "The number one employer of our students is family farms. Number two, is in sales or services for the industry, including artificial breeding and animal nutrition."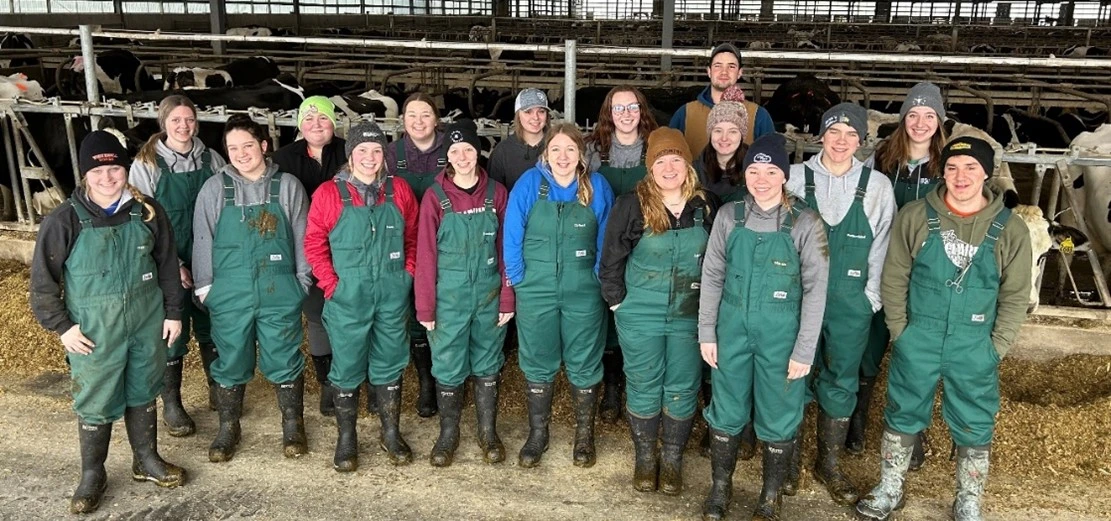 Students at Chippewa Valley Technical College's Animal Science Management Program learn

hands-on

skills that make them valuable recruits for the Wisconsin dairy industry.
For students seeking a bachelor's degree, there are many ways to bring their education into jobs in the dairy industry, also. As a Wisconsin Dairy Innovation Hub, UW-Platteville offers unique courses and faculty to develop students' skills through agricultural education, extracurriculars, and research. UW-Platteville's School of Agriculture Director Dr. Tera Montgomery shared that her students often enter the Animal, Dairy and Veterinary Science program with an interest in pre-veterinary work, but are exposed to many career options, both working with animals and in support of the dairy industry.
Students with majors across the university, including business, engineering, construction management, and computer science can find real-world learning opportunities at UW-Platteville's Pioneer Farm, which includes a working 200 cow dairy farm along with swine and beef production. "We have students who are attracted to our program because hands-on experience is what they are looking for, which is what they get – right from their freshman year all the way through their senior year," said Montgomery. "We have companies that, after they have had our students as interns, say 'that was so successful; I need five more students like that.'"
Preparing Wisconsin's Youth for Careers in Dairy & Agriculture
Professors from both Chippewa Valley Technical College and UW-Platteville shared that their students increasingly did not grow up on operating farms, but had other connections to agriculture through extended family, extracurriculars, or agricultural coursework in high school. This shows the importance of introducing youth to agricultural careers through farm visits, manufacturing plant tours, and on-campus programs. It also means that the post-secondary programs can teach their students a lot about farming and dairy processing, so internships, work-study, and experiential learning are a big part of their programs.
But far before entering post-secondary education, families and communities can help youth see a future in agricultural and dairy industry careers. Families can encourage their students to work hard in school, engage in agriculture-focused extracurricular activities, and perhaps most importantly, set aside dedicated funds for their children's post-secondary education and career training, which is where the state's 529 College Savings Program comes in.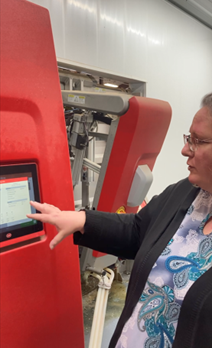 Dr. Tera Montgomery, with UW-Platteville School of Agriculture, explains how a Lely Astronaut robotic milker is used at their Dairy Innovation Hub at

Pioneer Farm.
Saving with Wisconsin's Edvest 529 college savings plan provides families a tax-advantaged way to save and pay for higher education. Dollars are contributed post tax, but account earnings are free from federal and state taxes when used to pay for qualified higher education expenses. Plus, Wisconsin taxpayers saving with an Edvest 529 account may also qualify for a state income tax deduction. For more information, please visit Edvest.com.
In helping his own family realize their education and career goals, Meister Cheese owner, Scott Meister, is very positive about using Edvest 529 for educational savings, and advocates for starting early in a child's life. "I have two kids who are both through college now. We started saving for them with an Edvest 529 account when they were born. It is amazing how fast 18 years goes. I would encourage anybody who has little kids, and who wants to make sure they get a good education, to start saving with a 529 college savings plan like Edvest." An account can be opened with just $25, and contributions can be made in several convenient ways, including through payroll direct deposit and ACH. "Start saving and put a little bit away monthly and can add up fast – then your child doesn't have the financial worry that a lot of kids do" added Meister.
Funds saved in an Edvest 529 account can be used at accredited technical colleges and community colleges, like Chippewa Valley Technical College, toward apprenticeship programs registered and certified with the Secretary of Labor, and at four-year public and private colleges in Wisconsin, like UW-Platteville, and others across the country or abroad. Families can use their savings to pay for tuition, certain room and board expenses, fees, books, equipment, and more.
"The Wisconsin dairy industry needs people with all types of skills" says Chelsea Wunnicke, College Investment Program Finance Officer with the State of Wisconsin's 529 College Savings Program, "we want families to understand that when saving for a child's future education with a 529 plan like Edvest, you are preparing your student to enter the workforce at a higher level, and with specific skills that are in demand. Technical colleges and industry-specific training programs are very much part of the landscape of post-secondary education options."
Edvest 529 accounts can be opened by parents, grandparents, or almost anyone who wants to encourage a child to pursue post-secondary education and career training. And it's about more than just the money – when a student knows they have funds set aside for their future education, regardless of the amount, they are more likely to envision the multiple post-secondary options available to them and potentially graduate with less debt.
The Wisconsin College Savings Program is celebrating National Dairy Month by thanking Wisconsin's farmers, dairy manufacturers, and the educational institutions who are dedicated to our keeping the dairy industry growing and strong. Young people in Wisconsin have many opportunities to develop their interests into a career in agriculture through post-secondary education. Wisconsin families and communities can encourage youth's interest in agricultural careers by increasing their exposure to the many opportunities in this industry, showing them that there are post-secondary options that fit their interests, and by saving for their future education.
###
To learn more about Wisconsin's Edvest 529 College Savings Plan, its investment objectives, risks, charges and expenses please see the Plan Description at Edvest.com. Read it carefully. Investments in the plan are neither insured nor guaranteed and there is the risk of investment loss. Check with your home state to learn if it offers tax or other benefits such as financial aid, scholarship funds, or protection from creditors for investing in its own 529 plan. If the funds aren't used for qualified higher education expenses, a federal 10% penalty tax on earnings (as well as federal and state income taxes) may apply. Consult your legal or tax professional for tax advice. TIAA-CREF Individual & Institutional Services, LLC, Member FINRA, distributor and underwriter for the Edvest 529 College Savings Plan.
Footnotes
1Source: Dairy Farmers of Wisconsin - https://www.wisconsindairy.org/↩
2Source: Wisconsin Public Radio - https://www.wpr.org/wisconsin-food-forestry-producers-export-record-amount-2022-datcp↩
FPS-2906716PR-O0523W
Explore our plan

Learn more about eligibility and all the qualifying expenses an Edvest 529 account can cover.

How our 529 works

Compare investment portfolios 

We make it easy to choose investment portfolios that fit your financial needs and savings goals.

Discover your options
Want more time before getting started? Sign up to receive
Edvest 529

information and college savings tips.